MELLIFLUOUS TOOTING PROVES THIS HORN MAN'S NO IDIOT - Excerpt
by Bill Brady - The Times Picayune Writer




... In New York Charlie Miller was everybody's sideman for 28 years. He played every
style of music. And so many famous people passed through his life that fame lost all
significance. Only the trumpet was constant.
Somewhere along the line, Miller played in the orchestra of "Annie Get Your Gun," starring
Ethel Merman. Offstage, he recalled, Merman was remote and unknowable. On stage, the
old trooper sang with mind numbing shrillness.

But there was one moment in the show when Merman sat alone on stage, under a cool blue
spotlight, and performed a ballad called "I Got Lost In His Arms." It was done, Miller
said, "as beautifully as any singer you'd expect to hear. It touched my heart."
Three years ago Miller finally made a recording of his own. Called "Peace Horn", it's a
beautiful trumpet equivalent of the Merman ballad, as there are no accompaning instruments.
There's only Charlie, finally opening up - not only on trumpet, but also flute.
His latest CD, Fonk Horn, is in the same vein, utilizing trumpet, flute, and on drums, another
old Dr. John sideman, Freddy Staehle. "For so long", Miller said, "I thought it was a
condemnation that I was a musician. I thought I was an outcast to society because
Jesuits' (high school) convinced me I was a stupid person. But, I'm not stupid at all. ...


Unique - Click On CD's to Hear 'Em !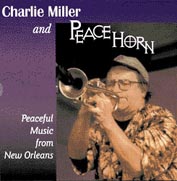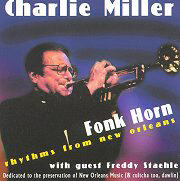 Listen To (or order) "PeaceHorn" or "Fonk Horn" CD