CHARLIE MILLER, ALVIN "RED" TYLER
Jonathan Tabak - Offbeat Magazine

Anyone who has experienced a Dr. John show knows that a Charlie Miller trumpet
solo is a true delight.
His piercing tone and urgent emotion immediately mesmerizes the crowd. Slowly but
surely, he coaxes the snake out of the basket with a jazzy, Latin-funk tinged blues that
is pure New Orleans.
Taking the song out to its dusky perimeter, he holds the audience suspended for a
moment. Then he rears back in the high register and the dam bursts, notes tumbling
back into the R&B groove. In a minute's time, he has created a song within the song.
Miller takes this approach one step further on his new solo CD, "Charlie Miller and
Peace Horn, Peaceful Music from New Orleans." What's most striking about this
unprecedented recording is the choice of sidemen. There are none. It's just Miller
by himself, playing solo trumpet on 11 of the original compositions, and solo flute on
the other two.
Maybe after a lifetime of creating songs within songs, sitting in the shadow of Dr. John
(their musical friendship goes back to 8th grade) as well as leading Latin bandleaders
(Machito, Barretto, Larry Harlow), other masters such as Chuck Mangione or the late,
great Thelonious Monk (they played a Carnegie Hall date together early in Miller's
28-year New York residency), the 59 year old Miller realized it was time to shed the
outer structure and get down to the core.
Whatever the reason, Peace Horn is a moving artistic statement. From the opening
"Daybreak" to the closing "Lullaby Peace Dreams," Miller meditates upon a single,
eloquent blues phrase with the intensity of a monk. Each variation takes us deeper
within his soul and closer to the communal heartbreak of New Orleans. Imagine the
force of "Taps," but the mood of a late night walk along the levee under a voluminous
moon. Above all, Peace Horn is an extremely soothing disk, great to put on as you
fall asleep in those wee hours.
This is a prolific period for Mr. Miller, as he is also featured on Dr. John's new
Trippin' Live release, as well as a new Ruth Brown CD.
On July 9th, Miller was one of many esteemed local musicians on hand at the
Funky Butt to pay tribute to legendary saxman Alvin "Red" Tyler, whose career
spans fifty years from the golden age of New ORleans R&B through modern
jazz exploration. (He was also part of Dr. John's band with Miller in recent years). .......


Unique - Click On CD's to Hear 'Em !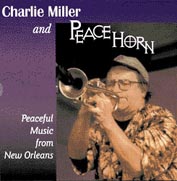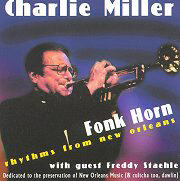 Listen To (or order) "PeaceHorn" or "Fonk Horn" CD