VETERAN TRUMPETER SETS MOOD WITH 'PEACE HORN'
by Keith Spera - The Times Picayune

Most New Orleans music, notes trumpeter Charlie Miller, "is designed
to get people up and excited and dancing."
"This", he says of "Charlie Miller and Peace Horn, "his starkly
evocative new CD of solo trumpet, "is designed to settle them down.
It's a relaxing record."
The trumpet, especially in New Orleans, usually strives to be bold and in
the foreground. Miller has mostly followed that philosophy as a longtime
member of Dr. John's stellar horn section.
But "Peace Horn" is the flipside to most Big Easy music. Mildly hypnotic,
slightly intoxication, it could be the soundtrack to a PBS documentary.
Except for the title track and the melody that is the basis of the
three "Lullaby" songs, Miller improvised the material in the studio
according to the guidelines he had established for the record's tone.
"I knew what it was I wanted to do." Miller said. "I had that sound
in mind, and went after it."
His session credits include Davelle Crawford's debut and a
soon-to-be-released Ruth Brown album. After playing on Dr. John's
"Goin'' Back to New Orleans," Miller rejoined the band and spent the
next three years on the road. He and veteran saxophonist Red Tyler
formed the core of the horn section: "We were like two old owls,
hanging together and observing."
Miller still performs with Rebennack locally, but no longer tours with him.
His work with the band is featured on "Trippin'' Live," a new Dr. John
concert album that was released this week. It was recorded during a
week long stand at Ronnie Scott's Club in London in January 1996, the
last dates for that version of the band.
In the CD liner notes, Rebennack says kind things about Miller's playing.
Miller did not originally intend the "Peace Horn" project to be a formal
release. This is not "the heavy, rhythmic playing that I do to make a
living," Miller said. "I took another road (with 'Peace Horn') and had
to see how far I could go down it."
Once Miller committed himself to making a full album. "I had to take
the attitude that I would do what I want. What my perceptions were
of what others would want, or whether they would like it, I had to put
that aside."
The overwhelmingly positive response he's received for "Peace Horn"
has allayed his fears. "It's like having a child born, and people
saying the child is beautiful - this enormous joy came over me."
"The trumpet is usually trying to be aggressive, and trying to grab
your attention. I wanted it to float through a room, so you notice
that less is more. Like smelling flowers from a distance: Something
floats by you, and you want to hear more."


Unique - Click On CD's to Hear 'Em !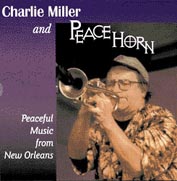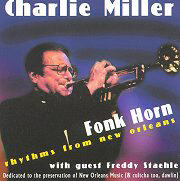 Listen To (or order) "PeaceHorn" or "Fonk Horn" CD