CHARLIE MILLER "FONK HORN"

By Jonathan Tabak
LEGENDERY TRUMPETER REVISITS ROOTS on NEW DUO RECORDING

PERCUSSION GURU FREDDY STAEHLE PLAYS ELABORATE "WINGER TREE" INSTRUMENT







For his follow up to the critically acclaimed PEACE HORN, Charlie Miller

wanted to evoke the soul and magic of the New Orleans music he grew up with

in the 1940's and 1950's. "There's a spirit in this music," he explains.

"A spirit of love and freedom. In those days there wasn't a large music

industry here, so music was done more out of innocence, purity, out of

love for the music."


To capture this essence, Miller teamed up with New Orleans native drummer,

Freddy Staehle, who, like Miller, has shared a long musical friendship with

Mac "Dr. John" Rebennack. Staehle is perhaps best known for his work on

Dr. John's 1972 masterpiece, GUMBO. Soon after the Gumbo session, Staehle

began assembling an enormous homemade percussion rig which he calls the

"Winger Tree", containing various drums and cymbals as well as

tambourines, wind chimes, bells, funnels, tree limbs, and other unusual

items. On FONK HORN, Staehle uses this bizarre instrument to maximum effect,

creating an exotic , multi-layered second-line groove which often states

the exuberance of an entire band parading down the street. It also

provides ideal counterpoint to Miller's poignant, yet warm trumpet style,

once described by OffBeat Magazine as "jazzy, Latin-funk tinged

blues that is pure New Orleans."


The two men dance their way through a program of classic, though remarkably

varied, material. "The record companies have many categories to market

music," says Miller. "R&B, Dixieland, modern jazz, Latino... But New Orleans

music is creole, a mixture. We touch on a lot of Latin stuff here, we touch

on old time Dixieland, on R&B, gospel, fonk, 2nd line, nostalgic 19th

century melody."


The album opens with "Just a Closer Strut with Thee," an infectious

interpretation of the old, similarly named spiritual. This theme

resurfaces later on "A Closer Romp with Thee," which has a faster,

romp groove. On "Careless Love," Miller unveils his long hidden vocal

talent, conveying a well-worn, smoky quality which is both tender

and haunting. He also sings on "Didn't He Ramble," "Saints Go Marching In,"

"Let the Rest of the World Go By" and "New Orleans," one of four original

compositions on the record.


For variation from the upbeat, parade-style music, Miller interjects several

serene interludes. These include "Aura Lee" (a 19th century song

which many will recognize as the melody used in "Love Me Tender") and

"Beautiful Dreamer," featuring Miller on flute while Staehle somehow

evokes chirping birds with his "Winger Tree". "Swamp Dawn" and

"Swamp Sunset" are strikingly unusual tracks, with Staehle sounding

like insects and birds rustling in trees while Miller's playing suggests

fog lifting from a bayou. Overall the CD has a uniquely celebratory - yet

very atmospheric and dreamy - quality.


Miller, of course, has enjoyed a long and prestigious music career. He has

benefited from productive stints as Dr. Hohn's musical director and arranger,

Jazz combo instructor at Loyola U, and played with people like

B.B. King, Johnny Adams, Thelonious Monk, Chuck Mangione, Hank Crawford,

Fathead Newman, and others, including having been featured in legendary

Cuban/salsa bands.

But Miller says that FONK HORN enabled him to express a basic essence of his

musical being.


"In my opinion, Freddy plays drums like Mac (Dr. John) plays piano. This

is our childhood music. So when I get around Mac and play music, my spirit

comes alive, and when I get around Freddy with music, my spirit comes

alive, and it brings me back to when I was very young and just playing

pure music."




Unique - Click On CD's to Hear 'Em !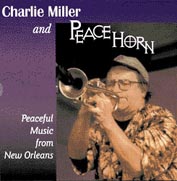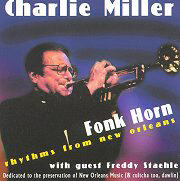 Listen To (or order) "PeaceHorn" or "Fonk Horn" CD

Email to Charlie
Return to Home Page