CHARLIE MILLER CD RELEASE

by Rich Collins - Offbeat Magazine





You know that feeling you get when you're walking through the French Quarter

and you hear the sound of a distant horn bouncing off the walls of the old

antique shops? If you packaged that melancholy beauty and put it on a piece

of plastic, you'd have Charlie Miller's new disc, PEACE HORN from NEW ORLEANS.

a collection of solo trumpet tracks by a New Orleanian who has performed with

everyone from Dr. John to Thelonious Monk (to Chuck Mangione if you want to

get technical).


PeaceHorn feels like the end of a great afternoon ... or, at least, the end

of a movie about some beautiful couple having a great afternoon ... or

maybe it's not an afternoon at all ... or maybe ...




Unique - Click On CD's to Hear 'Em !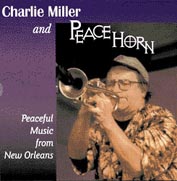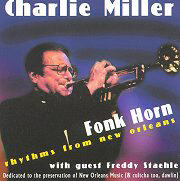 Listen To (or order) "PeaceHorn" or "Fonk Horn" CD

Email to Charlie
Return to Home Page