PROFESSIONAL PROFILE - CHARLIE MILLER


Fonk Horn                                               Peace Horn
                     Musician / Composer
                     Trumpet / Flute / Piano  
                     New Orleans, La.
                     Email: jazzhorn@gmail.com
                     Web: www.charlemiller.us
                     
New Orleans born Charlie Miller is an old friend to several
instruments, but the trumpet is his first love. His music career
began rather uniquely, to say the least. He began by playing the
family washing machine hose, then graduated to a beat-up old trumpet
an elderly gentleman gave him at the age of 12.

While in the 8th grade, he connected with a young musician who
would prove to be a lasting friend and fellow professional -
Dr. John. Miller performed with Dr. John's early band, arranged,
produced and performed on many of the now classic New Orleans R&B
recordings and still had time to attend Loyola School of Music.

Miller left New Orleans to enroll in one of the leading music
conservatories in New Hork. He graduated, full scholarship, from
Manhattan School of Music then moved into the professional
mainstream with jobs like:

. Carnegie Hall concert with Thelonious Monk
. Dr. John's N.Y. Band (Musical Director, Arranger, Trumpet)
. Co-producer for duet song by Lou Rawls and Denise Williams
  (album won Grammy)
. Chuck Mangione Tour
. Saturday Night Live Band
. Paul Jeffrey's Jazz Octet
. New York Ballet Theatre Orchestra, Lincoln Center
. Russia's Moiseyev Dance Company, U.S. Tour - 1st Trumpet
. Bill Watrous Wildlife Refugee Orchestra
. Several On-Broadway Shows including: Chorus Line, Annie, Annie Get
  Your Gun (Lead-Ethyl Merman), Mame, South Pacific, Kismet, and others.
. Happy New Year America simulcast each year, N.Y. Plaza &
  Waldorf Astoria Hotels
. Jay Leno's Tonight Show
. Conan O'Brien Show
. Austin City Limits with Dr. John and Danny Barker
. Music Of New Orleans - Classic Video by Pelican Pictures
. Pinetop Special


Some of the many people with whom Miller has recorded include:

. Ruth Brown
. B.B. King
. Lou Rawls
. Denise Williams
. Dr. John
. Johnny Adams
. Davell Crawford
. Hank Crawford
. David Fathead Newman
. Jimmy Witherspoon
. Al Hirt
. Johnny Vidacovitch
. B'way Show cast albums
. National jingles and other projects

Charlie Miller has been Jazz Combo Instructor at Loyola University.

Current activities include New Orleans area live performances and
recording projects. 



Unique - Click On CD's to Hear 'Em !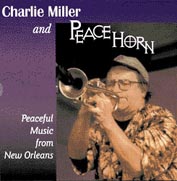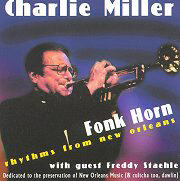 Listen To (or order) "PeaceHorn" or "Fonk Horn" CD