THE MUSIC 2
by Polly Hansen - New Orleans Writer



Armed with an old hand-me-down trumpet, Charlie Miller started belting out the
music pretty young. In the 8th grade, Charlie connected with a young musician who would
prove to be a lasting friend and fellow professional - Dr. John. Miller performed with
Dr. John's early band, arranged, produced and performed on many of the now classic
New Orleans R&B recordings ... and still had time to attend Loyola School of Music.
Miller left New Orleans to enroll in one of the leading music conservatories in New York.
He graduated, full scholarship, from the Manhattan School of Music then moved into the
professional mainstream with jobs that took him from clubs to Carnegie Hall. And the
company he kept wasn't bad either - legendary latino bands, The New York City Ballet,
Chuck Mangione, Broadway shows and an impressive roster of others.
Charlie's music has taken him around the world, with big bands, small groups, as a
sideman, soloist, accompanist and lead. However, as much as he welcomed the travel,
after many successful years on the global road, his old roots started tugging. It was time
to go home to New Orleans.
Now based out of N.O., Miller still mixes international play dates with a full schedule
of local gigs. The Old City has re-energized him. He's creating - writing, playing and
producing - more than ever. In addition to reworking some of his older original pieces,
Miller is conjuring some of his career's best work, both solo and ensemble. He recently
released an innovative CD - a complete definition of New Orleans on solo trumpet -
no accompaniment, no backup , just bold-face out there. Never been done before. And
finally, to the delight of everyone who has experienced the magic, the finishing balances
are being made to the new Charlie Miller Band.
Maybe it's the practice. Where but New Orleans can you sit on the levee and play the
sun to bed without raising an eyebrow? Maybe it's the determination. Many midnight
dog-walker has stumbled onto a Don't-Wake-the-neighbors Concert as Charlie runs
the scales in his parked car.
Or...maybe it's just pure talent, Pure, dedicated, soul-deep talent.
Charlie's car may not see the next millennium, but the music he's created is out there ...
absolutely forever.

Unique - Click On CD's to Hear 'Em !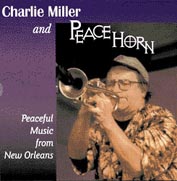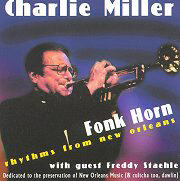 Listen To (or order) "PeaceHorn" or "Fonk Horn" CD