THE MUSIC
by Polly Hansen - New Orleans Writer

Ask anyone. There's more to the music of Charlie Miller than just sound.
It's a very special journey and there's nothing you can do but go where he chooses to
take you.
Miller's music creates a feeling of PLACE, whether it's somewhere you've been, a place
you dream of going or maybe a heightened feeling of just where you are right now.
It's an experience in TIME, with all the ambiance of the era of his choice, from the giddy
soundtrack of childhood to the full roller-coaster ride of grown up life.
But most of all, Miller's music is a deep sense of BEING ... whoever you are, wherever
you are. Miller's music taps into fantasy and collides with reality with equal precision.
And he fashions it all with the sheer talent and soul of a master musician.
Professional training, life experiences and the simple need to pay the rent have all
broadened Charlie's repertoire. If there's a genre of music he hasn't played it's still in
route from another planet. Born, raised and inspired in a city of music legends, this
New Orleans native built his embrouchure on diversity ... jazz, blues classical,R&B,
ballads, marches, latin ... the full spectrum of music.
Charlie's spirit resides in his trumpet but his talent keeps on the move. He's an accomplished
flutist, plays piano, produces, writes and arranges music for himself and others.
He's made records, tapes and CD's. His music has been used in movies and television
and he's scored the music for audio literature presentations. These experiences, plus every
type and venue of live performance out there, makes Miller one of the most sought-after
musicians in the business.
Whatever your thoughts, memories or dreams, Charlie can define them with his music
and hand them back to you fully articulated and full of surprises.
Charlie Miller's music exposes and compliments everything inside of you.

Unique - Click On CD's to Hear 'Em !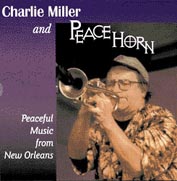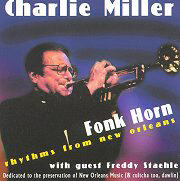 Listen To (or order) "PeaceHorn" or "Fonk Horn" CD