CHARLIE MILLER and PEACE HORN
by Geraldine Wyckoff (Gambit Weekly 11/4/97)



Trumpeter Charlie Miller is perhaps best known around town for his work with Dr. John.
Here, Miller has taken an unusual step with his own self-produced CD that features a series
of solo selections on trumpet and flute. As the subtitle "Peaceful Music from New Orleans"
indicates, Miller's goal is to explore the serenity of music. The sound of his city also plays an
important role - not the rowdy trumpet calls of the street, but the bluesier moods that prevail
in the tradition.
"Daybreak," which opens the disc, is reminiscent of many a traditional jazz intro.
"Toe-Tapper" brings to mind images of a lone trumpeter playhing his heart out on a French
Quarter street corner. Peforming alone, Miller has to use all his skills to create his "peaceful
horn." And although the disc has 13 very short tunes, including lullabyes and blues, it is better
to think of the whole thing as a tonal atmosphere, a space in time.
Peace Horn closes the shutters on the traffic jams of life and offers simplicity instead.

Unique - Click On CD's to Hear 'Em !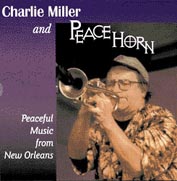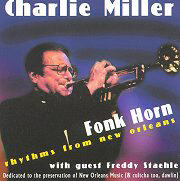 Listen To (or order) "PeaceHorn" or "Fonk Horn" CD