CHARLIE MILLER - PEACE HORN
by Dan Willging - Denver Co. (Dirty Linen Magazine)



Although Dr. John disbanded his long-running road band, which trumpeter
Charlie Miller was part of, that didn't stop this New Orleans-based musician from
staying busy. The inspiration for Peace Horn came from Miller playing lofty, floating
solo passages while relaxing in his garage.
Through his skilled embrouchure technique, disciplined breathing and partial valve
depression (great for slurry note drop-offs), Miller's expressive playing taps the very
pulse of the Crescent City.
His compositions sre soundscapes of familiar scenes, like a sunrise glistening in the
Mississippi waters ("DayBreak"), experiencing the vibes of the city's musical legacy
("Sweet Magnolia Blues") or the loneliness of a dimly-lit street ("Lullaby Peace Dreams").
Moreover, the tunes provide a subconscious escape, offer consolation or just nod in
undestanding. More than just music, they're a quiet journey with an introspective soul.

Unique - Click On CD's to Hear 'Em !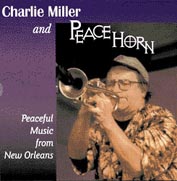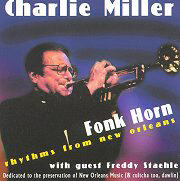 Listen To (or order) "PeaceHorn" or "Fonk Horn" CD