MUSIC TO YOUR EARS
By Anthony Leggio (Vive la Vie)


In his new album, Charlie Miller and Peace Horn: Peaceful Music from New Orleans,
the sultry and rhythmic sounds of jazz and blues blend nicely evoking a feel of Southern life. Listening to this album, one cannot help but conjure up the image of sitting in the French
Quarter on a wrought iron balcony sipping a cafe au lait or mint julip. This is quite an
accomplishment on Miller's part.
With 13 tracks on the CD, Miller takes listeners on a journey of several different melodies,
each with its own unique flavor. Expertly playing trumpet, Miller has created a CD that is a
must for any New Orleanians' collection. And, definitely should be purchased by any visitor
to New Orleans who wants to bring a musical memory of the city back home with them.
Blues and jazz aficionados won't be disappointed either by this CD. From Daybreak
and Evening Song to Ole Man Blues to Sweet Magnolia Blues, Peace Horn proves
a winning combination.
Like many other New Orleans trumpet greats (like Louis Armstrong and Al Hirt), Miller
started his career at a young age. From his days as a child playing a garden hose to his
first trumpet at 12, Miller proved he had a knack for the horn. In eighth grade he made
contact with a young musician, Dr. John who played a major part in Charlie's career.
Miller performed with Dr. John's early band. Not only did he perform on many of these
now classic R&B recordings by Dr. John, he also had a hand in arranging and producing
these albums.
His impressive credentials include performing at Carnegie Hall with Thelonious Monk,
The Jay Leno Tonight Show, Conan O'Brien Show, and the Saturday Night Live Band.
And on Broadway, he played in the orchestra of such hits as Annie, Mame, South Pacific,
and Chorus Line.
Miller is working on the new Ruth Brown CD and Dr. John's new CD, Trippin Live.
Besides his job as premier musician, he can be found at Loyola University as a Jazz
Combo instructor.

Unique - Click On CD's to Hear 'Em !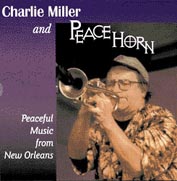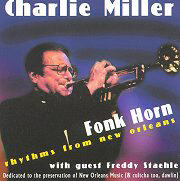 Listen To (or order) "PeaceHorn" or "Fonk Horn" CD